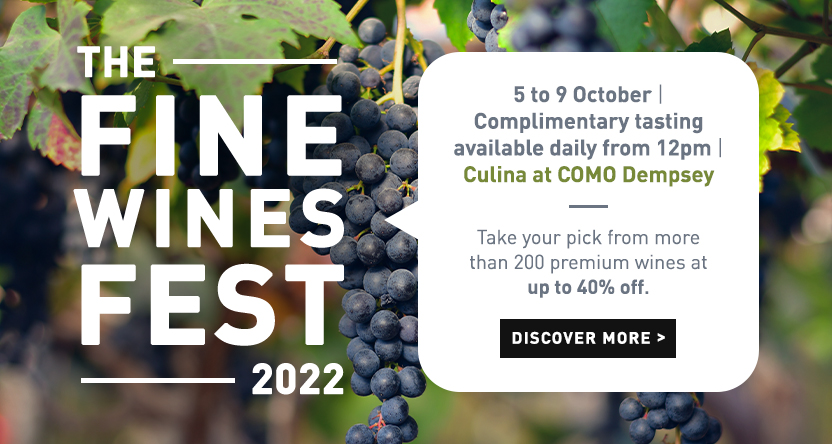 The Fine Wines Fest 2022
October 5 to 9 | Culina at COMO Dempsey
From lusciously light and juicy, to elegant and robust – there is sure to be a bottle for you at The Fine Wines Fest.

The annual event returns with an array of more than 200 wines of varying vintages and appellations at up to 40 per cent off.
Whether you prefer bottles brimming with tales of mastery and tradition, or fancy newer varietals, discover new favourites and revisit classics for your enjoyment.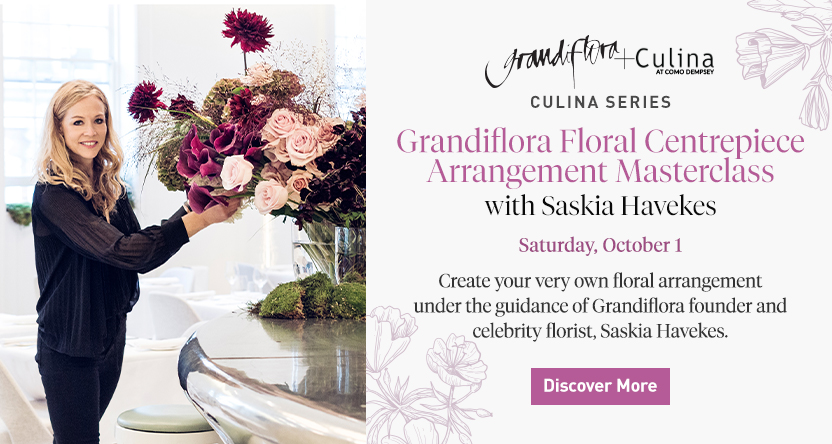 Culina
Series:
Grandiflora
Floral
Centrepiece
Arrangement
Masterclass with Saskia
Havekes
From a small floral atelier in Sydney to a respected international name coveted by celebrities, blockbuster sets and high fashion labels, Grandiflora and Saskia Havekes have made waves in the fields of hospitality, fashion, editorial and interior design.
Take a masterclass in the art of floral arrangement, and learn to navigate the spontaneity, organic dynamism and complex language of flowers. Let your creativity flourish under the guidance of Saskia and bring home your own creation.
Date: Saturday, October 1
Session 1: 11am to 12.30pm
Venue: Culina at COMO Dempsey
Price: $420 nett per guest

From the Grapevine this October

Only treats this month
Keep your nights young and spirited with a special selection of tipples curated by our sommelier. Delight in more indulgent nights and festive get-togethers with the right wines.
Till 31 October, enjoy the following at our wine counter at 15% off for takeaway
Red

Louis Jadot Les Sentiers Chambolle-Musigny Premier Cru
M.Chapoutier Côte-Rôtie Les Bécasses
Robert Mondavi Oakville Cabernet Sauvignon
Torbreck The Steading (Grenache, Shiraz, Mataro)
Villa Poggio Salvi Tosco Sangiovese Grosso Toscana IGT
Yering Station Reserve Pinot Noir
Inama Carmenere Piu Veneto Rosso IGT
Louis Jadot Mâcon-Villages Grange Magnien
M. Chapoutier Schieferkopf Silvaner
Joh. Jos. Prum Bernkasteler Badstube Riesling Auslese
Cakebread Cellars Sauvignon Blanc