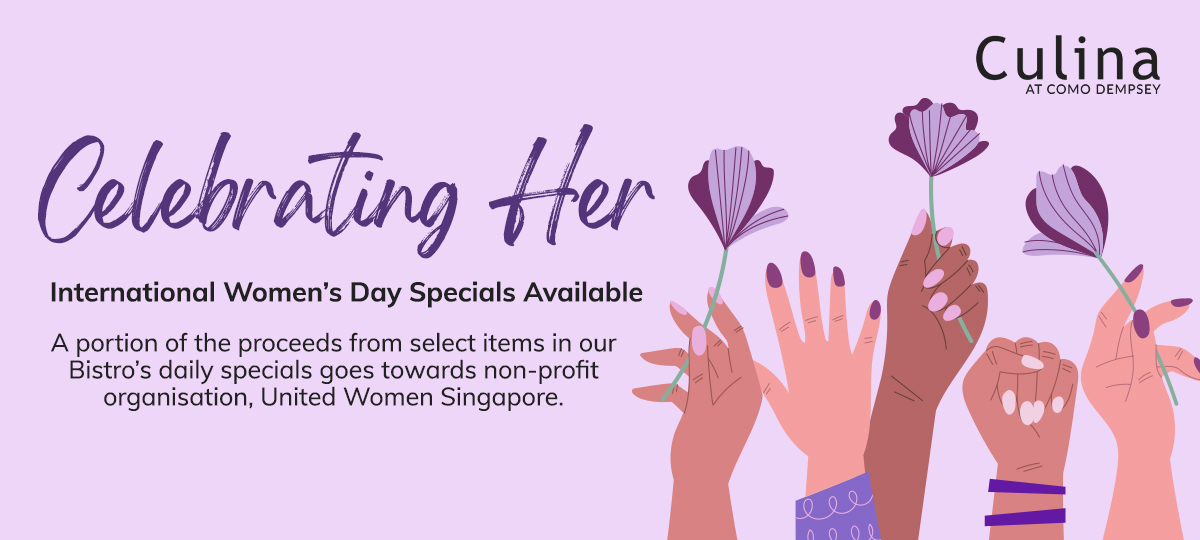 Celebrating Her
International Women's Day Specials
In celebration of International Women's Day, we are supporting local non-profit organisation United Women Singapore (UWS) and their local programmes that advance women's empowerment and gender equality. This includes GenSafe Workplaces, which focuses on Anti-Violence and advocates for workplace policies to support the survivors of domestic violence among the employees, and its flagship programme Girls2Pioneers that reaches out to girls, particularly those from disadvantaged and marginalised backgrounds, to encourage them to take up STEM (Science, Technology, Engineering and Mathematics) subjects in their higher education and careers, thus paving the way for a more gender equal society.
We have carefully put together exclusive daily specials where a portion of select items will be donated directly to UWS. We hope you'll be able to bring your closest for some important conversations and meaningful contributions over good food.
A Month in Purple
The colour of dignity and justice, and a symbol for the women who made it happen.
Bistro Tipples
We have specially concocted cocktails and mocktails - featuring premium non-alcoholic botanical aperitif Melati, a homegrown label by a female entrepreneur - available at the Bistro in March, for dine-in only.
Fresh from the Bakery
Uplift your friends and family with freshly baked butterfly pea doughnuts – delightfully soft with a burst of sweetness from its generous pandan filling. Available at the Bakery from March 1st to 20th.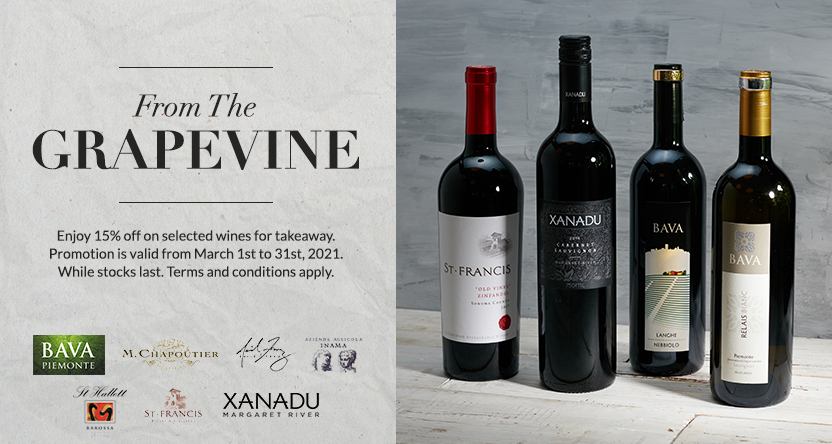 From the Grapevine in March
This month, we're highlighting wines from cool climate grape varieties that are generally lighter-bodied than their counterparts from warmer growing regions. With lower alcohol content and a stronger mouth-watering acidity, you'll experience subtler fruit flavours ranging from tart to fresh, with green to white fruit notes on white wines and tangy cranberry, red berry and cherry aromas on reds.
Coming up soon is Riesling Day, a date referencing the first written evidence of the Riesling grape: an invoice dated on March 13th, 1435. Riesling produces one of the greatest stylistic wine ranges in existence. It can make the driest and the sweetest wines in the world, bottles fit for immediate consumption or long aging. Riesling is always defined by its characteristically high acidity, an attribute that makes it an ideal wine for food pairing. Try out some of our featured Rieslings below.
Don't be shy to ask our sommelier for tasting tips. You can pick the following selection at our wine counter at 15% off for takeaway until March 31st:
Bava Relais Bianc Piemonte D.O.C. Sauvignon
Bava Cor De Chasse Gavi D.O.C.G. Del Comune Di Gavi
Bava Langhe D.O.C. Nebbiolo
Xanadu Cabernet Sauvignon
St Francis Old Vine Zinfandel
Rieslings
David Franz Eden Valley Riesling
M. Chapoutier Organic Alsace Riesling Lieu-dit Berg Blanc
M. Chapoutier Organic Alsace Riesling Lieu-dit Buehl Blanc
M. Chapoutier Organic Alsace Riesling Lieu-dit Fels
St Hallett Eden Valley Riesling